GET ready to lose yourself in artificial intelligence (AI)-driven multisensory experience with this mind-melting roller coaster that draws in billions of pieces of data – from the brushstrokes of Leonardo da Vinci and Juan Luna to the mysteries of the universe – and harnesses the power of the algorithm to create breathtaking data paintings of extraordinary scale and vision.
At the "Wisdom of Da Vinci: An Immersive AI Experience", ongoing until Dec. 10 at 3/F One Bonifacio High Street, 5th Avenue, Bonifacio Global City, Taguig, this showcase of Istanbul-based Ouchhh Studio's most comprehensive works can't be missed.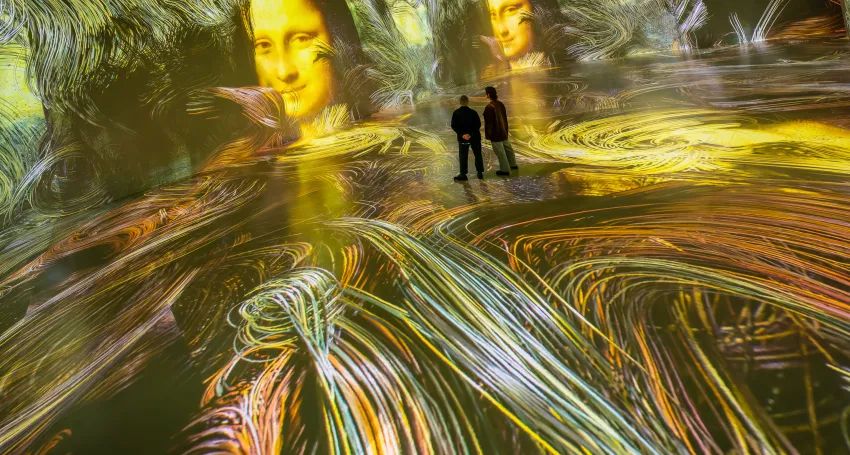 "Wisdom of Da Vinci" features AI trained to analyze billions of brushstrokes of Renaissance painters as well as a selection of recent Ouchhh Studio research projects including humanity and the metaverse, poetic AI, data monolith, data gate and dark machine (the result of Ouchhh's collaboration with machine learning scientists at the European Council for Nuclear Research, taking data from the Hadron Collider's exploration of sub-atomic particles).
Ouchhh, a global creative new media studio known as the pioneer of data paintings, spent over 14 years developing the code, curating the output and teaching the machine learning algorithms employed in this tech-meets-art exhibition. They employ a mind-driven approach, discovering new technological models to go deeper into the roots of art, science and technology.
Amid growing concerns about how AI is taking over the creatives industry, Ouchhh and exhibit director and new media artist Ferdi Alici said in a press conference that there is room for both technology and creators to co-exist. "It is still the artist directing the algorithm on what to do. What you see in front of you today is not the raw output of AI but curated pieces by a team of data scientists, academics, engineers and artists."
The process of creating these artworks makes use of different data sources, from traditional comma-separated values files, to data from telescopes and National Aeronautics and Space Administration (NASA) to art history records and paintings to help the algorithm learn new strokes, tone combinations and other techniques. Traditional statistical techniques like principal components analysis and more machine-learning-centric processes like auto encoders are employed to create classifications from the various data inputs and make the data visible and appealing to the human eye. "Data goes through different workflows of AI algorithms coded in Python and other software to make the art you see in front of you," Alici said.
Alici describes the output as one that was created with "data as the paint and the algorithm as the brush," further highlighting the rare symbiotic relationship displayed in the "Wisdom of Da Vinci: An Immersive AI Experience".
Navigating the exhibit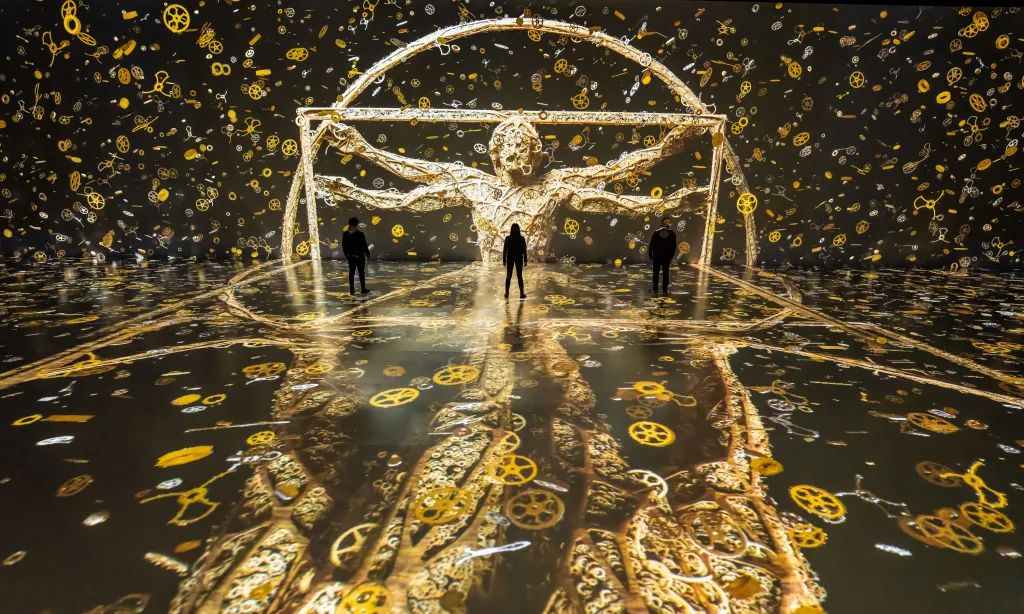 Don't worry about getting lost in the exhibition. The layout is straightforward and ushers are around to guide visitors. The immersive one-hour experience is divided into three separate halls: Curator's Lobby, Digital Garden of Dreams and Wisdom of Da Vinci.
Upon entering the exhibit space, the first display one will see is the Curator's Lobby. Think of this as a primer for what's to come. Visitors can join a quick painting workshop, get introduced to the concept of data art and even take photos at the photo booth.
The lounge starts with the Poetic AI gallery, which explores the relationship between human creativity and technology through a digital library of 20 million lines derived from the works of scientific pioneers such as physicist Albert Einstein and astronomer Galileo Galilei.
Next, Manila Realtime will take you on a journey through the Philippine economy, using data from budgets and statistics to showcase a fluctuating data piece in real time. It is a custom art piece that utilizes agriculture, fisheries, budgets and other national statistics data to weave a tapestry of soundscapes and kinetic structures.
In another hall, experience the Digital Garden of Dreams which showcases Atlas, DataGate, Superstrings and a data painting based on Filipino master Juan Luna's artworks.
Atlas is inspired by da Vinci's "Vitruvian Man" and is a visualization of the human cells influenced by the Italian artist and polymath's study of the human body.
DataGate uses observations of cosmic bodies made by the Kepler telescope over its three-and-a-half-year journey in outer space, and is the outcome of a collaboration with NASA. Ouchhh's algorithm analyzed data from more than 500,000 stars, 2,500 planets and 60 supernovas create this visual attraction.
In Superstrings, see how music changes the mental landscape of musicians as they perform. This cognitive display visualizes brain waves based on auditory and neural mechanisms as collected from members of the Manila Symphony Orchestra. The display aims to solidify the connection between human creativity, emotions and reasoning. From whimsical shades to fluid movements, the room becomes alive as it changes with every resonating sound played.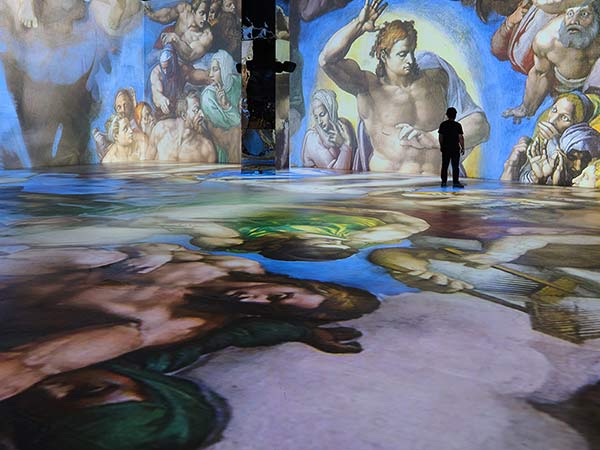 During the media preview, members of the Manila Symphony Orchestra were wearing headpieces that get data from their brain, which were then visualized for the Superstrings display. "We can get six different kinds of data from the musicians' brain in real time: attention, tension, meditation, alpha, beta and gamma," Alici said. "So it means you will jump into the musicians' brain as an art piece, as data paintings in this room."
In Filipino Masters, viewers get a new data painting based on all of Juan Luna's art pieces in his lifetime. Using AI trained on Luna's works and algorithms that reflect human thought, his oeuvres give visitors a glimpse into how the world might have looked like from the perspective of this revered artist.
The star of the show and the namesake of the entire exhibition follows in the hall Wisdom of Da Vinci, which offers a "360-degree exploration" into the mind of the artist-scientist. Other visual masterpieces can also be seen here such as Michaelangelo's "Creation of Adam" and "La Pieta". The exhibit uses data from numerous historical images from da Vinci's machine sketches, inventions, plans and paintings. The AI learns from 15 billion brushstrokes obtained from various art paintings throughout history and creates its own abstract aesthetic that fills the entire area. Completing the experience is musical scoring by the Italian pianist and composer Ludovico Einaudi, who made the music for the Oscar-winning movie "Nomadland", and Turkish-Canadian composer Mercan Dede. "Here, we get to see the mindset of a painter 500 years ago," Alici said. "You will experience multidimensional universes made by AI inside this space."
Note that re-entry to the exhibit is not allowed, so make sure you're done experiencing everything and nerding out with art and data before moving on from one hall to the next.
Photography is allowed in the exhibit, so feel free to interact with the projections and strike your best pose.
Mind-blowing spectacle
It takes an open mind to appreciate the concept behind all parts of the "Wisdom of Da Vinci". It is quite mind-blowing – essentially, millions of bits of data have been analyzed by AI from some of the world's most important and influential minds, creators, scientists and historical discoveries. The AI interpreting the data and weaving it into an exhibition is unique.
The spectacle takes over all walls and the floor, so at times if you look down, it feels as though you are watching waves of hue under your feet. While you see beautiful images of da Vinci's artworks slowly parading, this progresses to more abstract concepts and images which is still a spectacle in itself. These include angular shapes, lines, shadows, colored balls and numbers that swirl, whizz and dart before your eyes.
The sheer volume of the audio, when the projections begin, is on the cusp of overwhelming, although it is also what makes the show intense and immersive, along with the visuals that are projected over the walls, across the floor, and over the audience.
The entire audio-visual sensory experience is a trippy, alternative world experience as if the audience is embedded inside a monumental display of computer-generated imagery (CGI).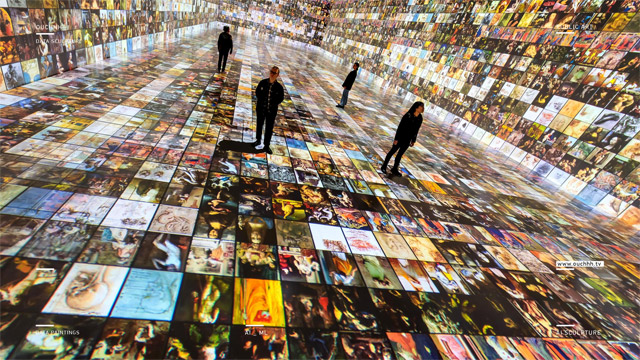 The visuals are hypnotic and beautiful, sometimes threatening; dots of white explode outwards, words and numbers strobe and flash at great speed; computer-generated grids and lines melt and morph into ancient granite walls and crumble and reassemble into metallic, alien shapes, all of this accompanied by a series of industrial and melodic soundscapes.
The projections occasionally switch off for brief moments, revealing the blank walls and floor in a shock of blazing white, as if to remind the audience that this is only a temporary virtual world.
Ouchhh Studio fed AI with millions of data sets, and the Wisdom of Da Vinci chapter presents an AI response to 20,000 paintings by more than 300 artists, resulting in 15 billion brushstrokes, best described as CGI forms that flow and ripple off the original works.
Da Vinci's "Vitruvian Man" morphs into a mass of turning cogs and wheels that fly off into a black void; the iconic "Mona Lisa", "Salvator Mundi", "Virgin of the Rocks" and other works by da Vinci and fellow Renaissance artists melt into thousands of bubbles of tint that swirl across the walls and floor like water before reforming into strings that wave like fronds of seagrass, all this accompanied by Einaudi's lush piano melodies in a multisensory, textural feast.
The journey begins with the Renaissance, explores the texture of a prehistoric human settlement, enters the world of sub-atomic particles and travels to outer space.
The show is awe-inspiring and the technology impressive with its fully surrounded audio-visual experience. The concept is fascinating and the sheer scale of sensory input, information, color and movement on display and the feeling of being fully immersed in a spectacular presentation of art, history and science data as it's never been seen before is quite amazing.
Tickets
Guests are advised to book their tickets ahead. Tickets can be purchased online at the BGC Immersive website. If you choose to buy tickets on-site, ushers and guides will help you book the experience online. Buying on-site does not guarantee immediate entry to the exhibit nor a pass for the same day.
Tickets are priced as follows: regular pass – for P975, this gives you full access to the exhibit; student pass – students with a valid primary, secondary and college ID can avail of a discounted rate at P780; PWD, senior citizen pass – discounted rates for those aged 60 and above and PWDs are at P695.
Book the correct date and time, as only a specific number of people will be allowed to enter the space for the most optimal experience. Schedule changes may be accommodated, granted you submit a change request to BGC Immersive's concierge at least 48 hours before your original ticket date. Rebooking is subject to a fee, so check your selected date and time before checking out.