FILIPINO designers unveiled their high-octane creations at the just-concluded 71st Miss Universe. As in previous years, they dressed the contestants in gorgeous ensembles that were a perfect complement to their radiance and beauty.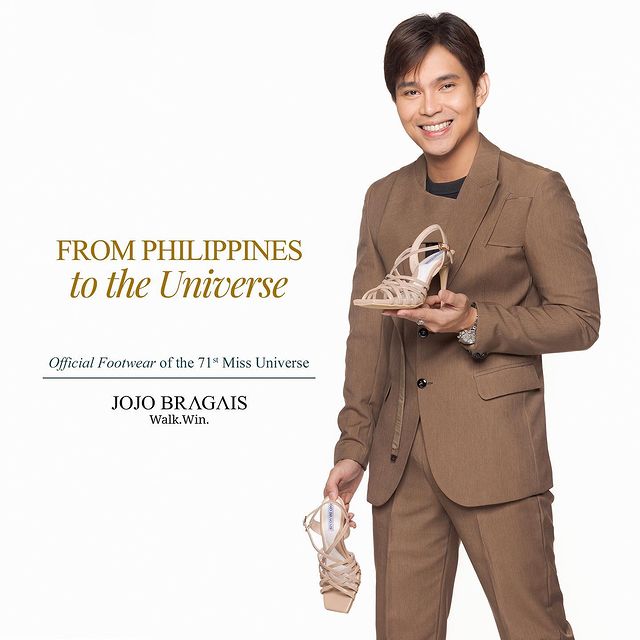 Jojo Bragais
A two-time footwear provider for Miss Universe, Jojo Bragais has been making shoes that combine style, comfort and quality since 2013. Through the pageant, he propagates the dying art of traditional shoemaking through his Marikina-made stilettos.
The first time he was tapped for the contest was the 69th edition in Hollywood, Florida, USA. Jehza, named after his friend and Binibining Pilipinas Supranational 2018 Jehza Huelar-Simon, is his first non-platform pageant shoes. It has a contemporary square toe, thick vamp, and 4-inch heel.
Maureen is the designer's creation for the 71st Miss Universe held in New Orleans, Louisiana. Named after Bragais' friend and Miss Globe 2021 Maureen Montagne, Maureen has symmetrical overlapping straps and is featured in silver, cream, gold, cocoa and caramel.
The licensed nurse and midwife-turned-designer has been part of many life-changing experiences including the successes of beauty queens Pia Wurtzbach and Catriona Gray. Aside from his famous clientele, Bragais is also grateful for those he met through crafting footwear for weddings and debuts. He fondly remembers a client with deformed feet who made him realize that the shoe business is his life purpose.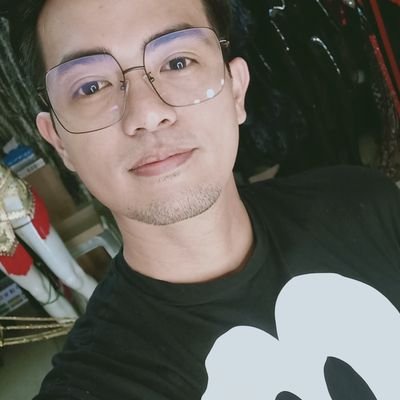 Patrick Isorena
He is the costume designer of Woman on the Moon, worn by Miss USA R'Bonney Gabriel who was crowned the 71st Miss Universe. On Instagram, Patrick Isorena revealed that the 30-pound star-spangled ensemble had a diameter spanning 36 inches. The silver national costume had a gigantic moon-shaped prop attached to it, colorful neon lighting and a dazzling headpiece. On her own Instagram, Gabriel shared that the 1969 US moon launch inspired the design for the costume, which Isorena finished in one month.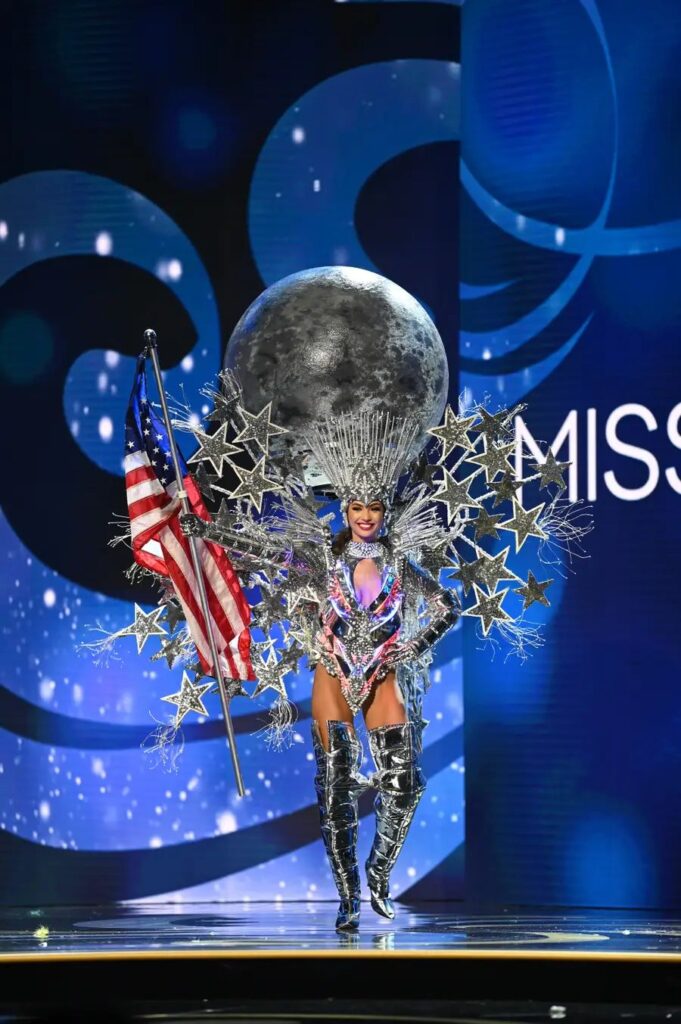 A graduate of Bachelor of Secondary Education Major in Speech and Theater Arts from the Philippine Normal University, Isorena comes from a family engaged in carpentry, tailoring, handicrafts, entrepreneurship and teaching.
Rian Fernandez
Known for his elaborate creations with strong cultural themes, Rian Fernandez founded his eponymous label in 2012 in Pangasinan. Even though he's not new to making gowns for both local and foreign beauty queens, Fernandez (a member of the Council of ASEAN Fashion Designers) continues to exhibit his passion for ingenuity in this year's pageant scene.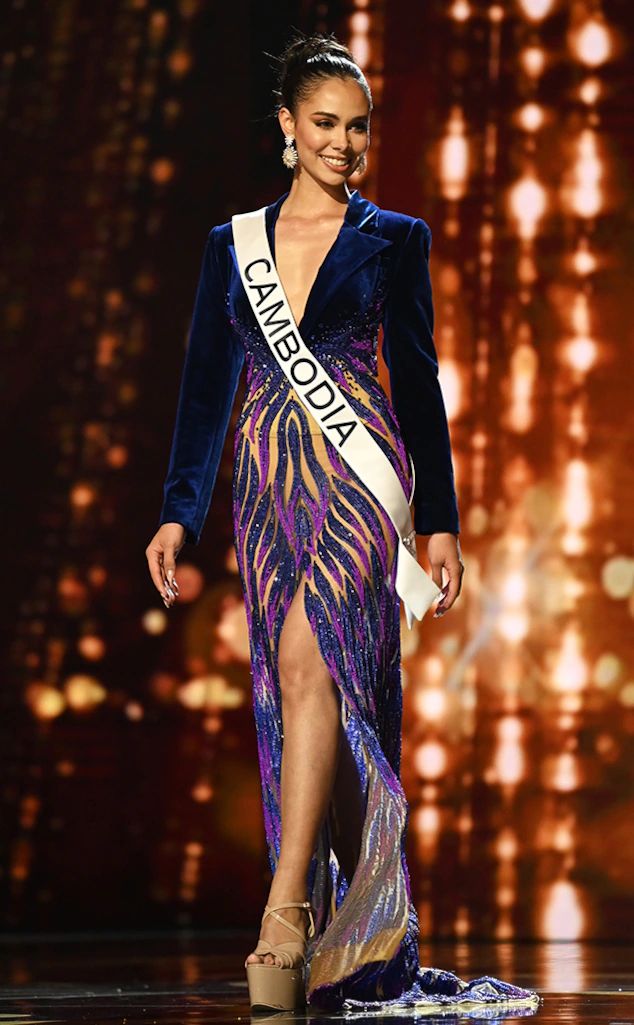 At the preliminary competition of Miss Universe, Miss Cambodia Manita Hang wore Fernandez's Untangled Dream, a handcrafted gown in purple and blue which represent royalty and serenity. Miss Universe Gabriel, on the other hand, donned his Viva Magenta, inspired by 2023's Pantone Color of the Year.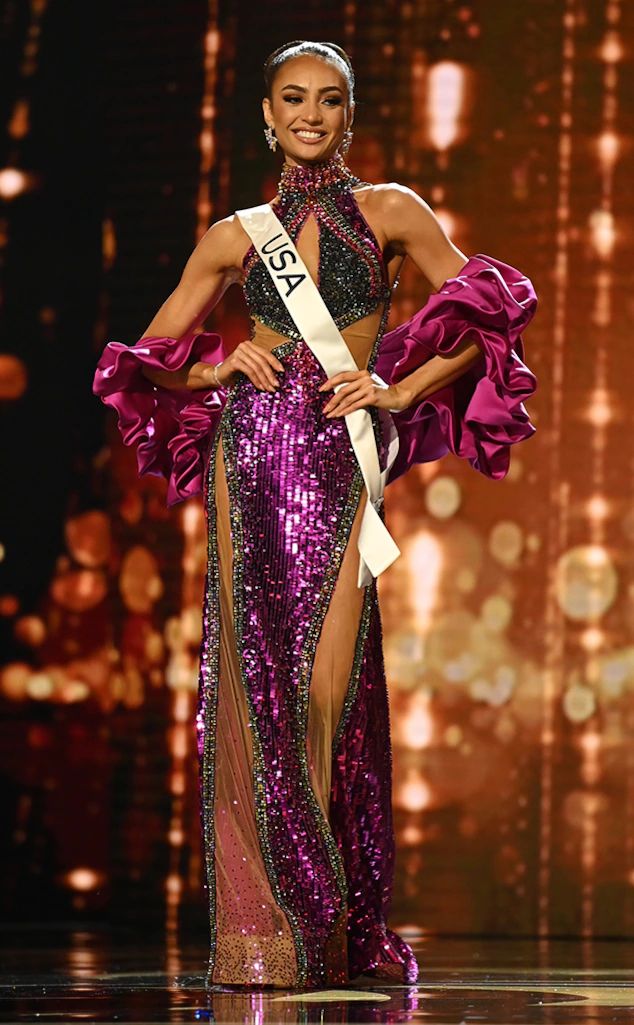 The pageant showcased many gorgeous gowns but the one that stood out was Fernandez's Phenomenal Queen, a handcrafted studded dress worn by Gabriel during her winning moment.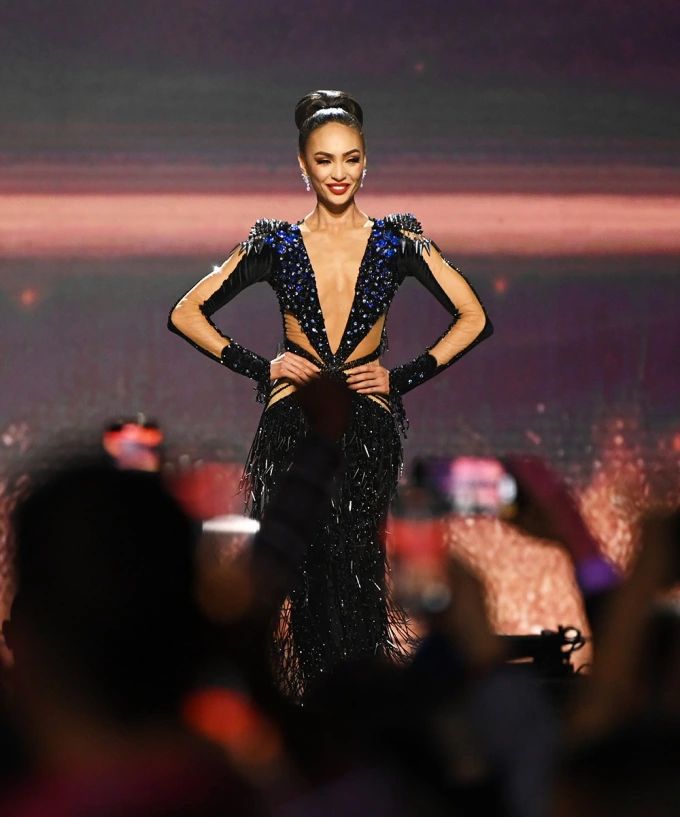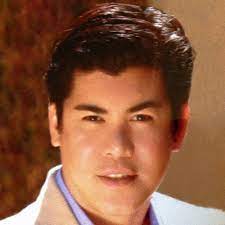 Oliver Tolentino
A champion for eco-couture, Oliver Tolentino is mostly based in Beverly Hills, California where he has dressed Hollywood celebrities for award shows like the Oscars, Golden Globes, Emmys and Grammys.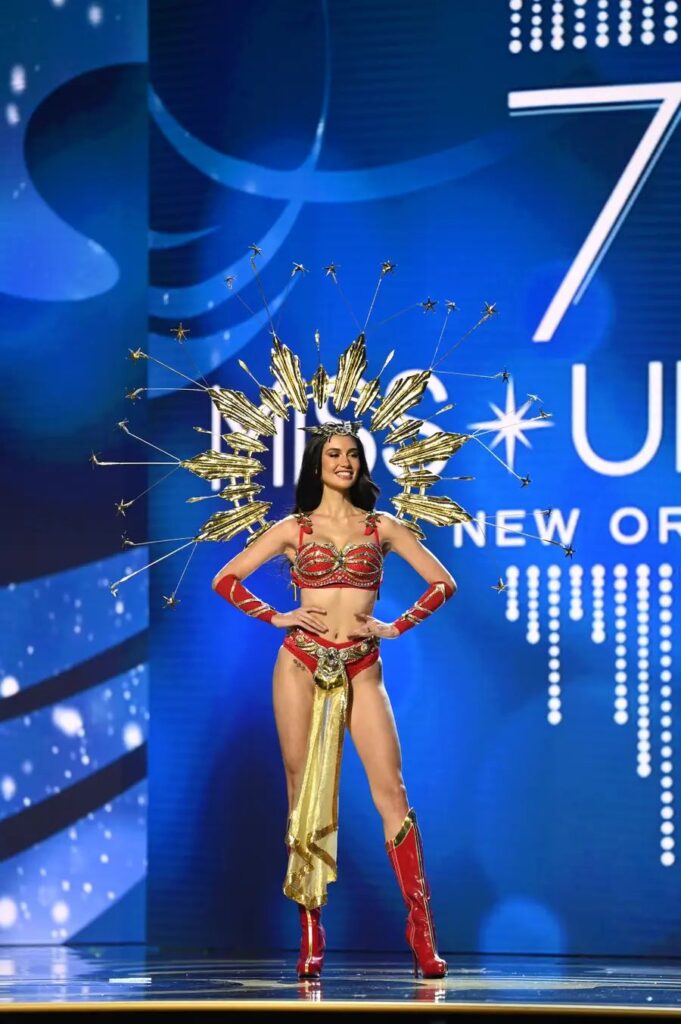 For Miss Philippines Celeste Cortesi, the Filipino-American fashion designer created an Art Deco blush blue column gown made of tulle, French lace, Thai silk and crystals. For the national costume, the beauty queen dressed as Darna, a popular Filipina superheroine.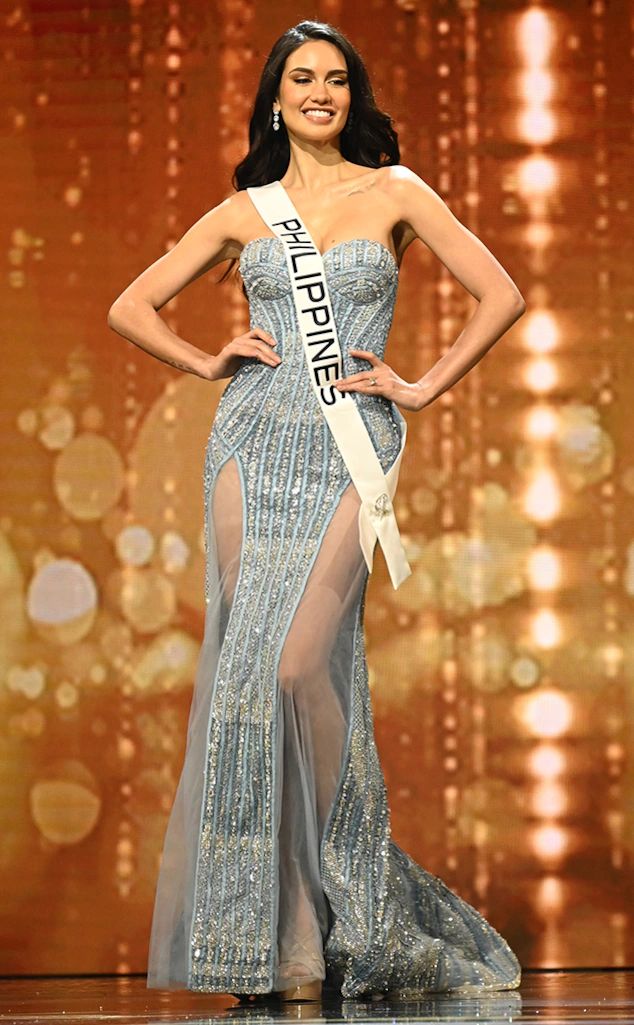 A native of Bataan, Tolentino knew he wanted to get into fashion at age 7. At 18, he traveled to Manila to pursue his dream. After taking up advertising at Miriam College and fashion design at Slim's Fashion & Arts School and the Philippine Fashion Institute, he opened a shop in Valle Verde, Pasig then moved to San Lorenzo Village, Makati. In 2009, he found a second home for his namesake atelier on Melrose Avenue, Los Angeles, making him the first Filipino couture designer to expand stateside.
Despite his success, Tolentino remains rooted in his Filipino heritage and proudly promotes Philippine fabrics in his masterpieces that are well-received by the international fashion community.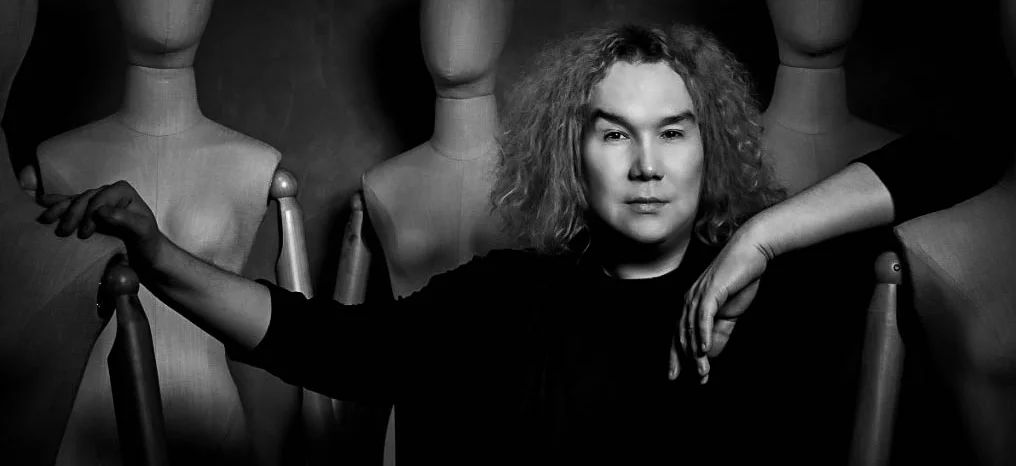 Furne One
The founder of Amato Couture, Furne One is renowned for his over-the-top shows and extravagant styles. He has dressed pop stars Katy Perry, Beyonce and Jennifer Lopez and supermodels Tyra Banks and Heidi Klum, and creates commissions for clients in the United Arab Emirates and Saudi Arabia.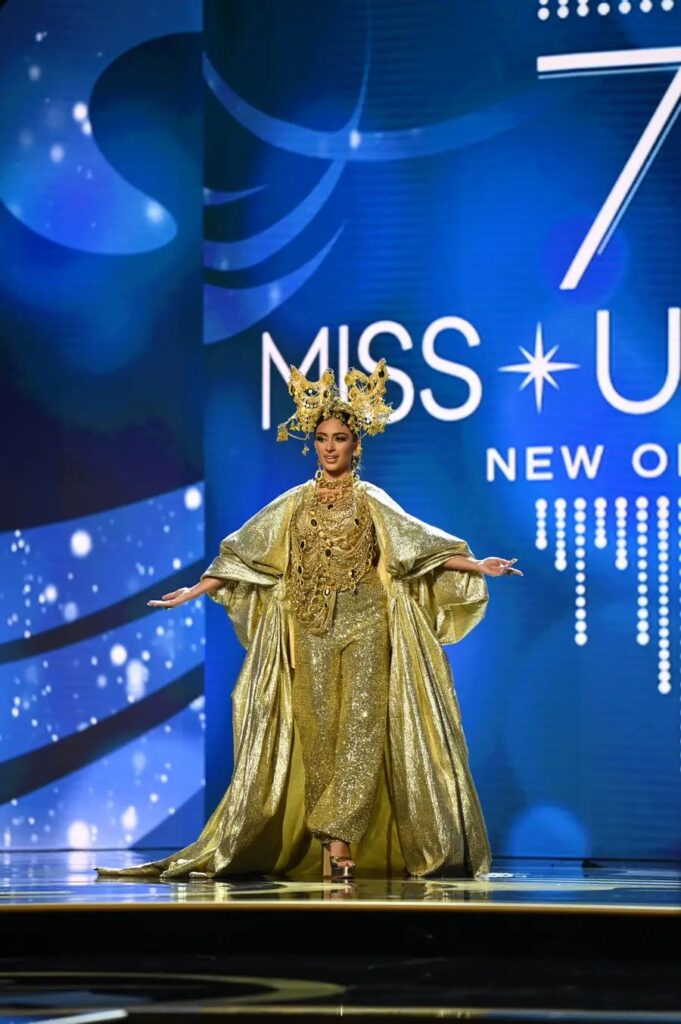 For Miss Bahrain Evlin Abdulla Khalifa, One created a slinky hooded evening gown and a golden national costume that symbolizes Bahrain's 50 years of nationhood.
Born in Cebu City, the Dubai-based designer has not forgotten his roots as he uses indigenous materials for his collections. Initially, One worked as a visual artist for a mall in the Philippines. He even dabbled in designing shoes for a local brand. But his big break came when he won the MEGA Magazine Young Designer of the Philippines Award in 1994.
Lingerie designer Josie Natori, one of the judges, was so impressed with One's work that she offered him an internship in her design studios in Paris and New York. In the same year, One bagged Japan's Women Wear Award.
After his stint with Natori, One visited a friend in Dubai in 1998. As he explored the city's untapped fashion market, he realized what the elite Arab clientele needed – dresses of unbeatable splendor. His dream materialized when he opened his first boutique Amato (meaning "beloved") there in 2002.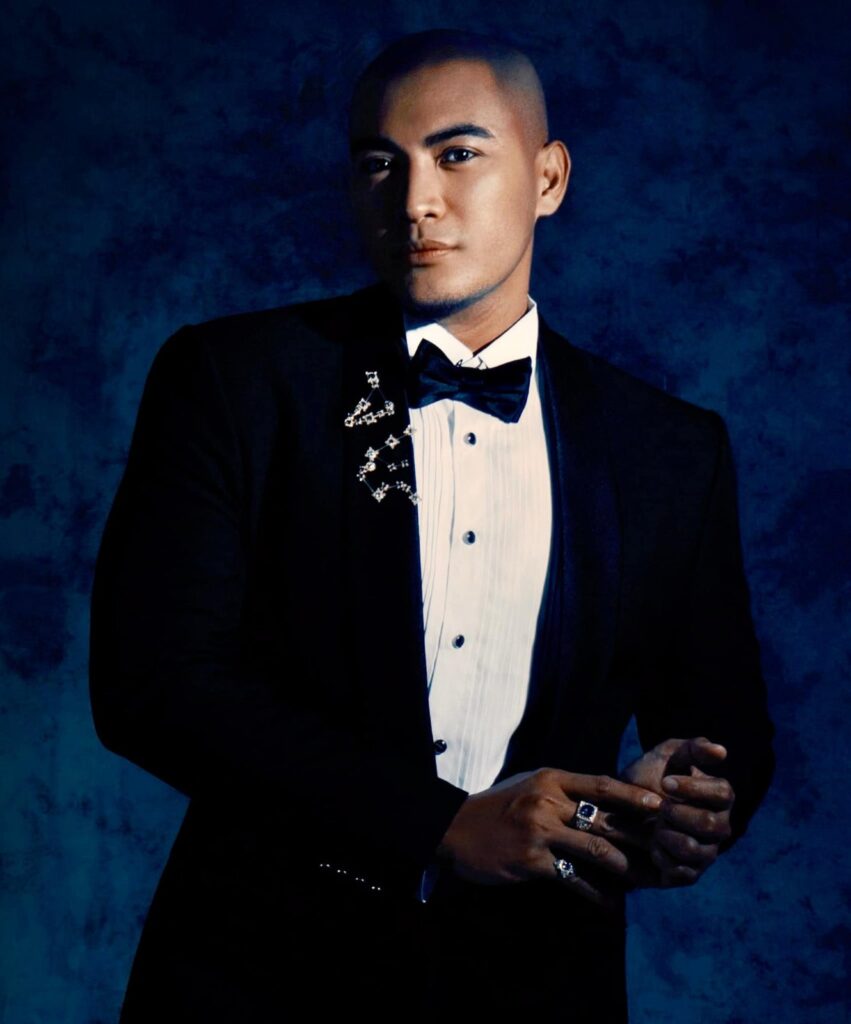 Leo Almodal
Known as the King of Bling, Leo Almodal's creations are like jewelry with exquisite beadwork and Swarovski crystals. The creative director and fashion designer comes from a family of tailors and dressmakers. His Leo Almodal Haute Couture proffers bridal gowns, evening dresses and jewelry. His designs are influenced by nature, architecture, music, arts, animation and movies.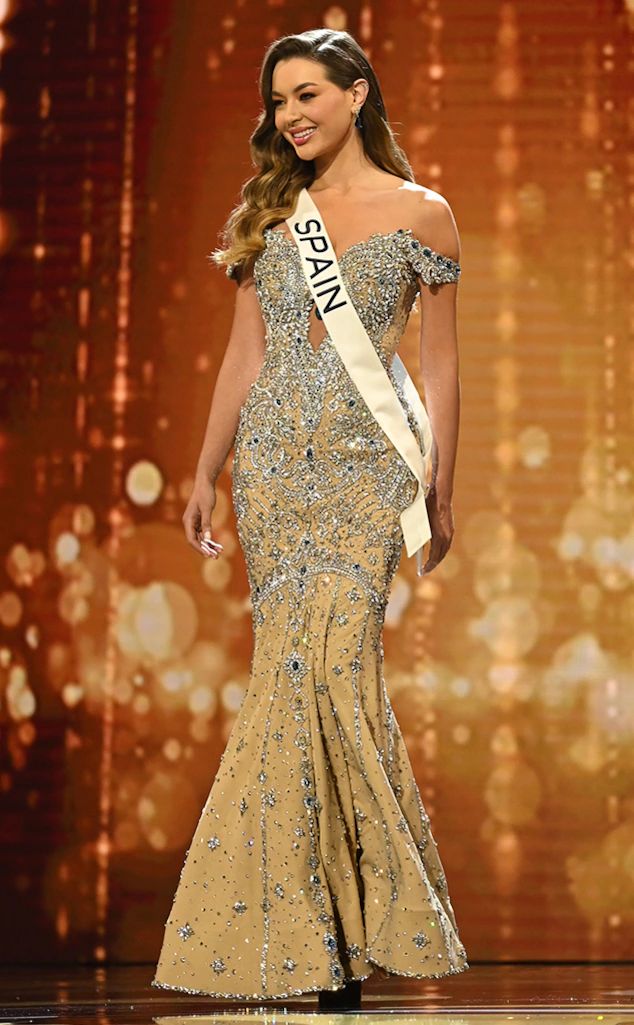 Despite being based in the Philippines, 70 percent of Almodal's clients are from the United States, Africa and United Kingdom.
For Miss Spain Alicia Faubel, Almodal made a silver and royal blue gown. Her off-shoulder dress was embellished with rhinestones and gems that cascaded elegantly down to the hem.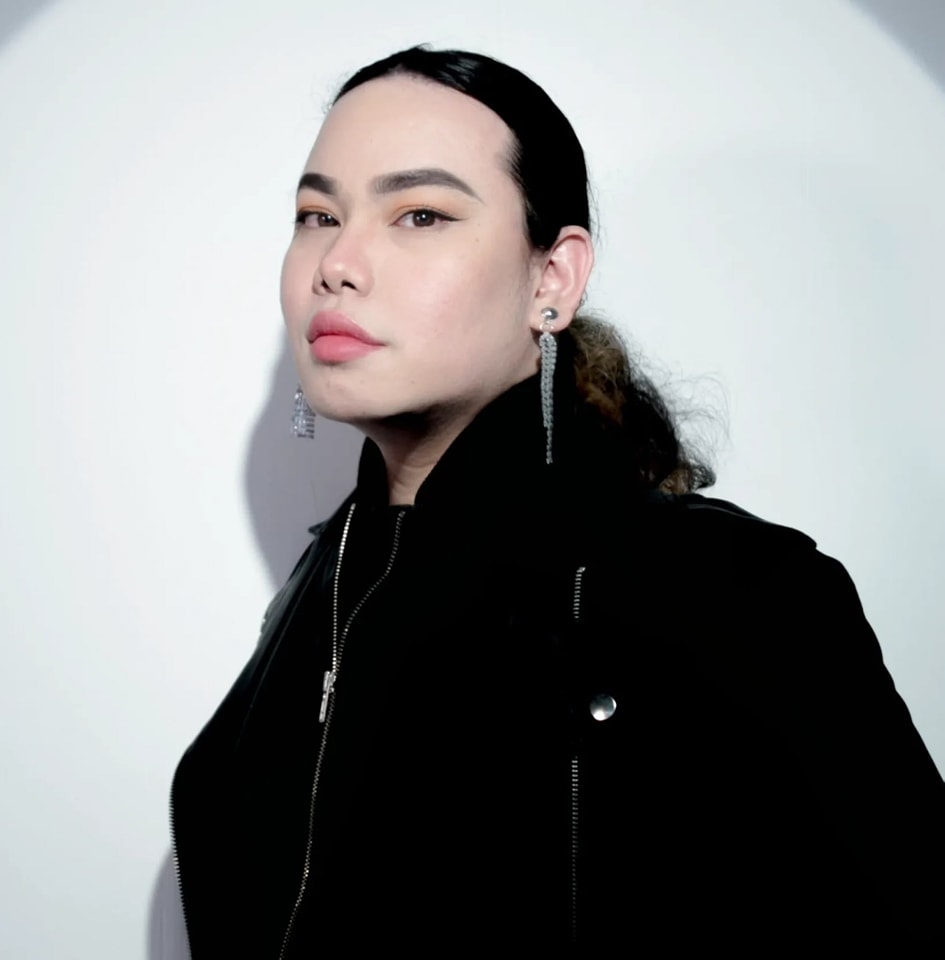 Ehrran Montoya
Describing himself as a "fashion artist," Ehrran Montoya hails from Rizal. After finishing fine arts from Far Eastern University, he became an associate designer of architect and fashion designer Francis Libiran for five years. Then he was promoted to creative director of the house for a year before he started his own line in 2021.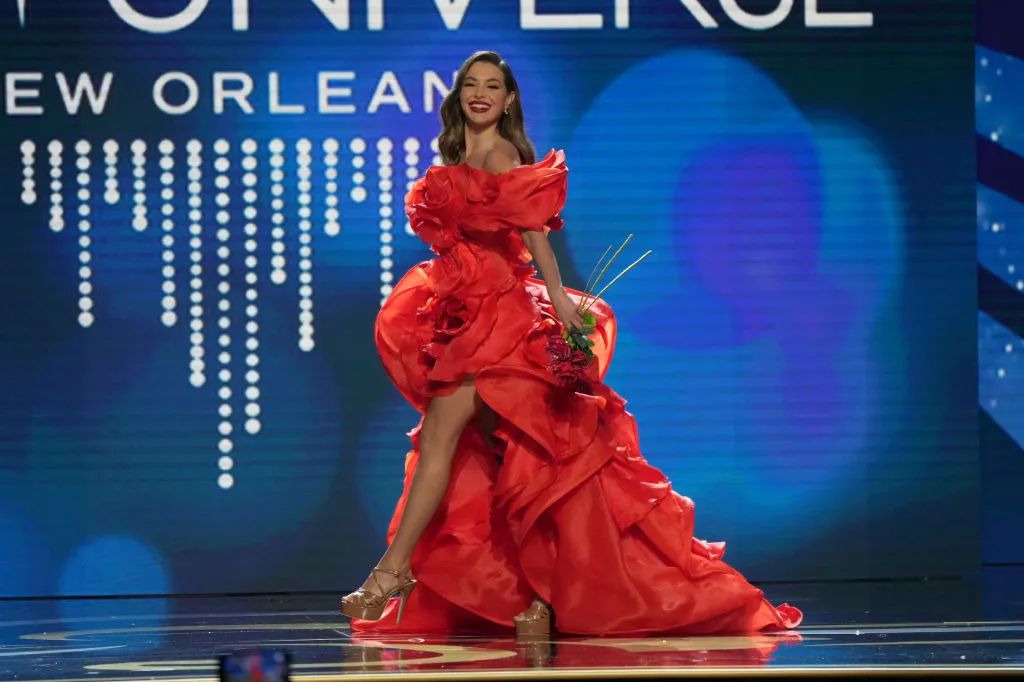 Montoya's passion for fashion began when he was four years old. The beautiful gowns of Disney princesses inspired him to draw illustrations, play dress up through paper and make paper dolls from scratch. His wearable avant-garde pieces are influenced by nature, pop star Lady Gaga and designer Alexander McQueen.
For Miss Spain's national costume, Montoya created a red outfit inspired by the flamenco, her country's traditional folk dance.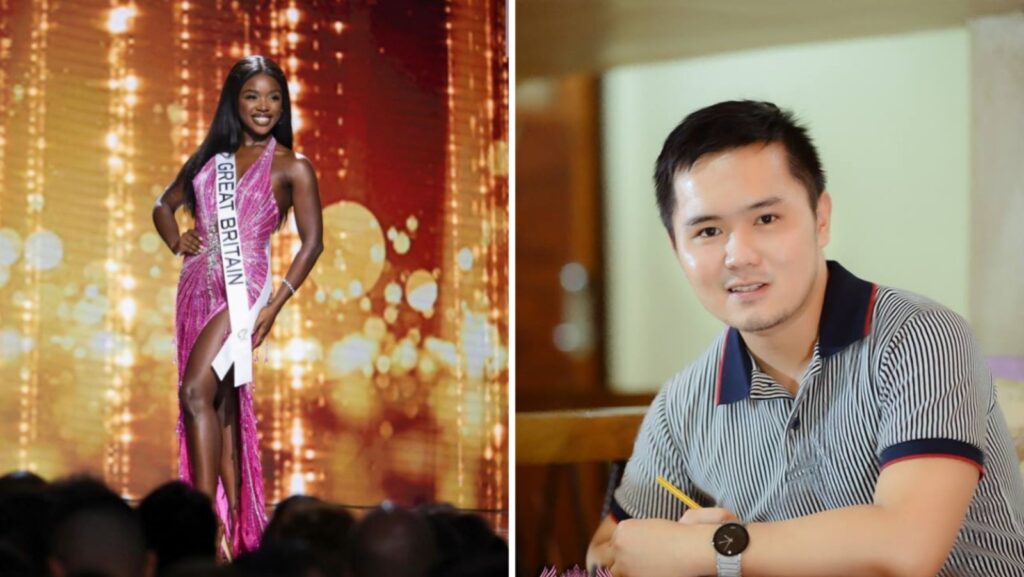 Louis Pangilinan
The creations of couturier Louis Pangilinan have been featured in several pageants, including the last two editions of Miss Globe. At the 71st Miss Universe, his ensembles made quite a splash. Miss Great Britain Noky Simbani was a Boss Barbie wearing a custom pink crystal-embellished halter gown. Maxine Formosa Gruppetta of Malta was bright as sunshine in her revealing crystallized gown with a high slit.
The Laguna-based designer studied at Laguna State Polytechnic University.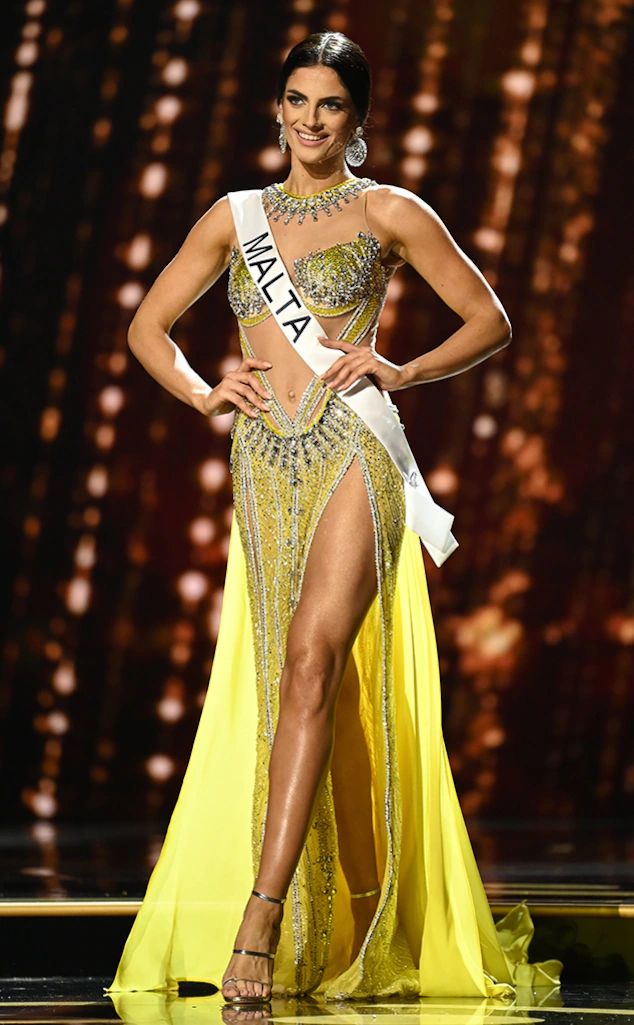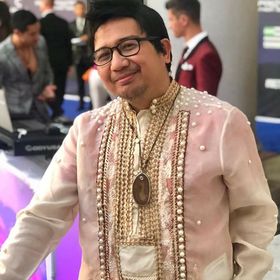 Carl Andrada
Known for promoting Davao's banana fabric and utilizing indigenous materials like banig and tambo grass, Carl Andrada has been designing costumes and gowns (labeled as Carmelo Designs) for beauty pageant contestants since 2015. His national costume for Miss Mauritius Alexandrine Belle-Etoile was inspired by her country's national flower, Trochetia boutoniana. Like the tropical payanke bird, Miss Seychelles Gabriella Gonthier soared during the national costume competition with her feathered garb by Andrada. The designer also made her beaded champagne dress for the evening gown segment.
Born in Capiz, Andrada moved to Los Angeles, California in 2009 where he studied dressmaking in an adult school and fashion design at the Los Angeles Trade Technical College. He began his career by making costumes for his all-Filipino choir before venturing into weddings and beauty pageants.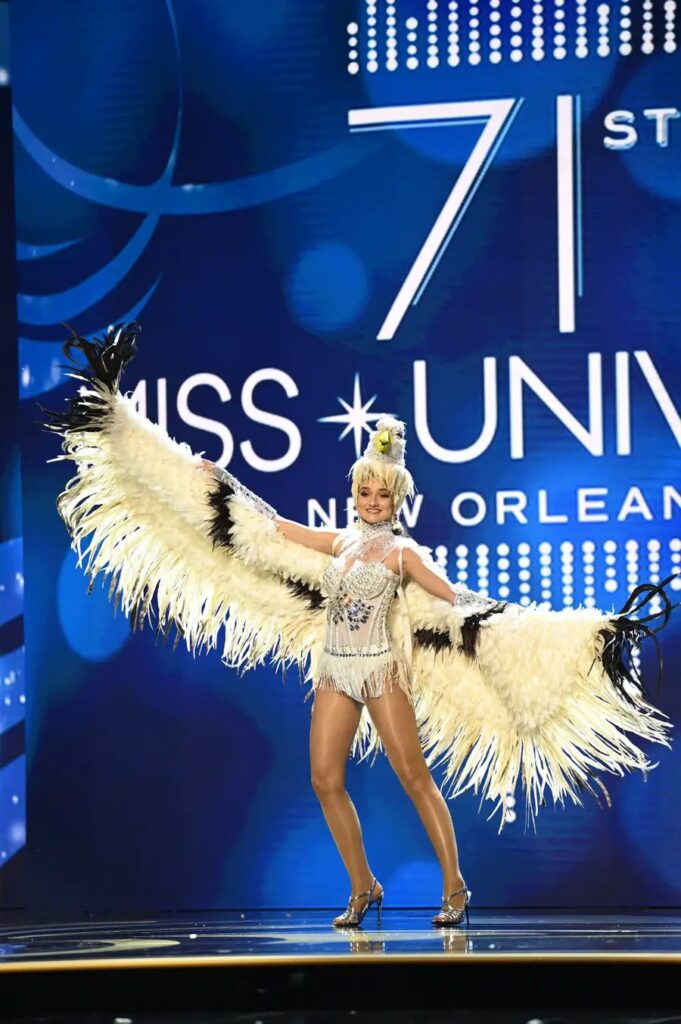 In 2015, he won 3rd place in the Metropolitan Fashion Week Costume Design in Los Angeles, which paved the way for his participation in the event's finale held at Warner Bros. Studios and eventually, designing for international pageant candidates. In the 2016 Binibining Pilipinas USA, Andrada's Ati-Atihan-inspired ensemble made of banig and tambo grass won Best National Costume.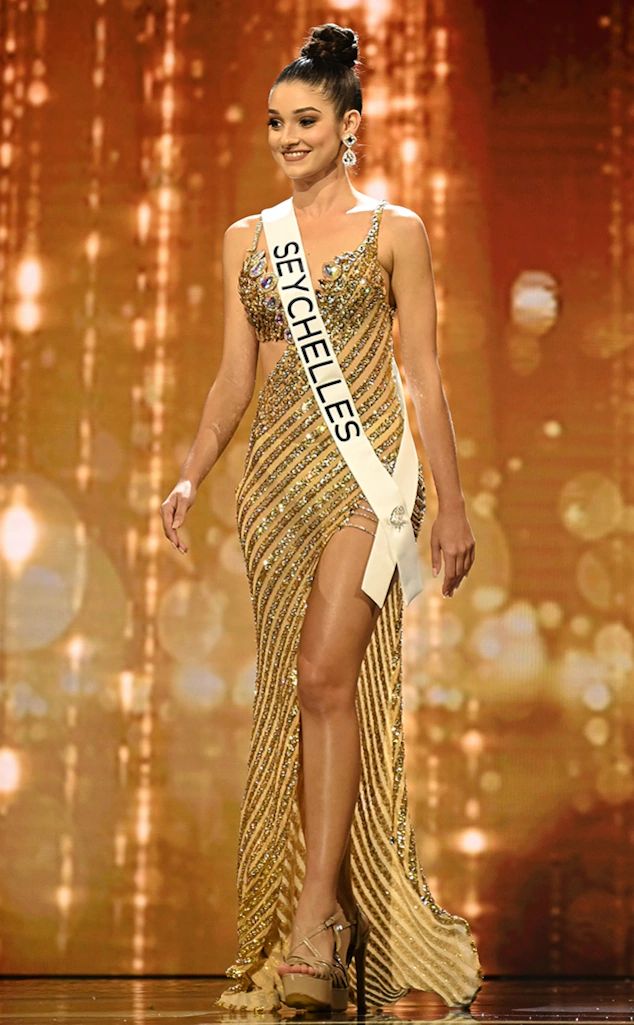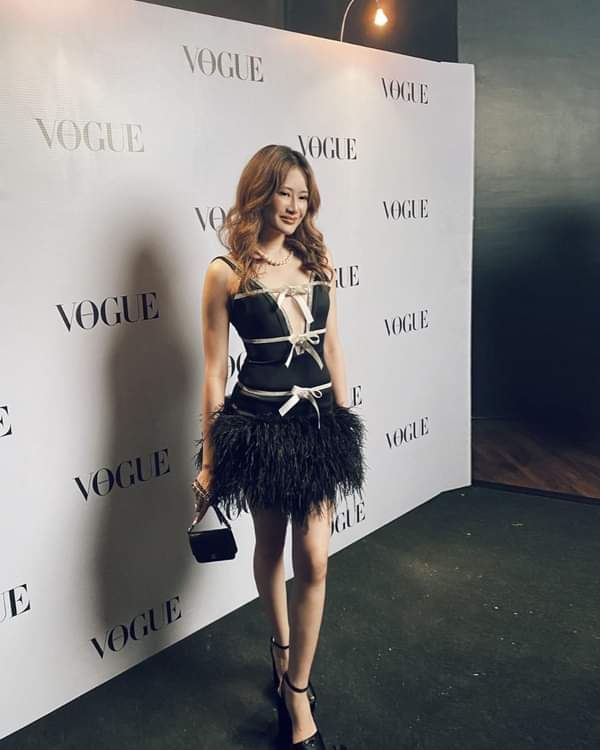 Julianne Syjuco
Renowned for her meticulously crafted wedding dresses that incorporate expressive beading, delicate silhouettes and admirable detailing, Julianne Syjuco trained at Parson's School of Design in New York.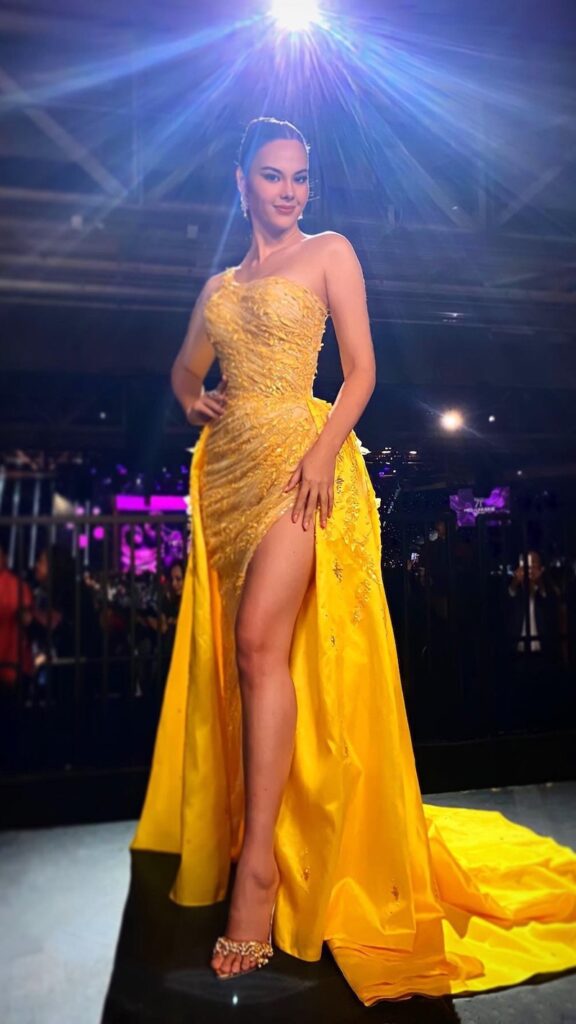 Her creations represent romance, sophistication and elegance that were evident in Catriona Gray's yellow asymmetrical gown, which she wore at the recent Miss Universe. The high-slit frock was embellished with delicate leaf details and a caped skirt. The former Miss Universe was the epitome of radiance as she took on commentating duties with American TV personality Zuri Hall at the pageant's 71st edition.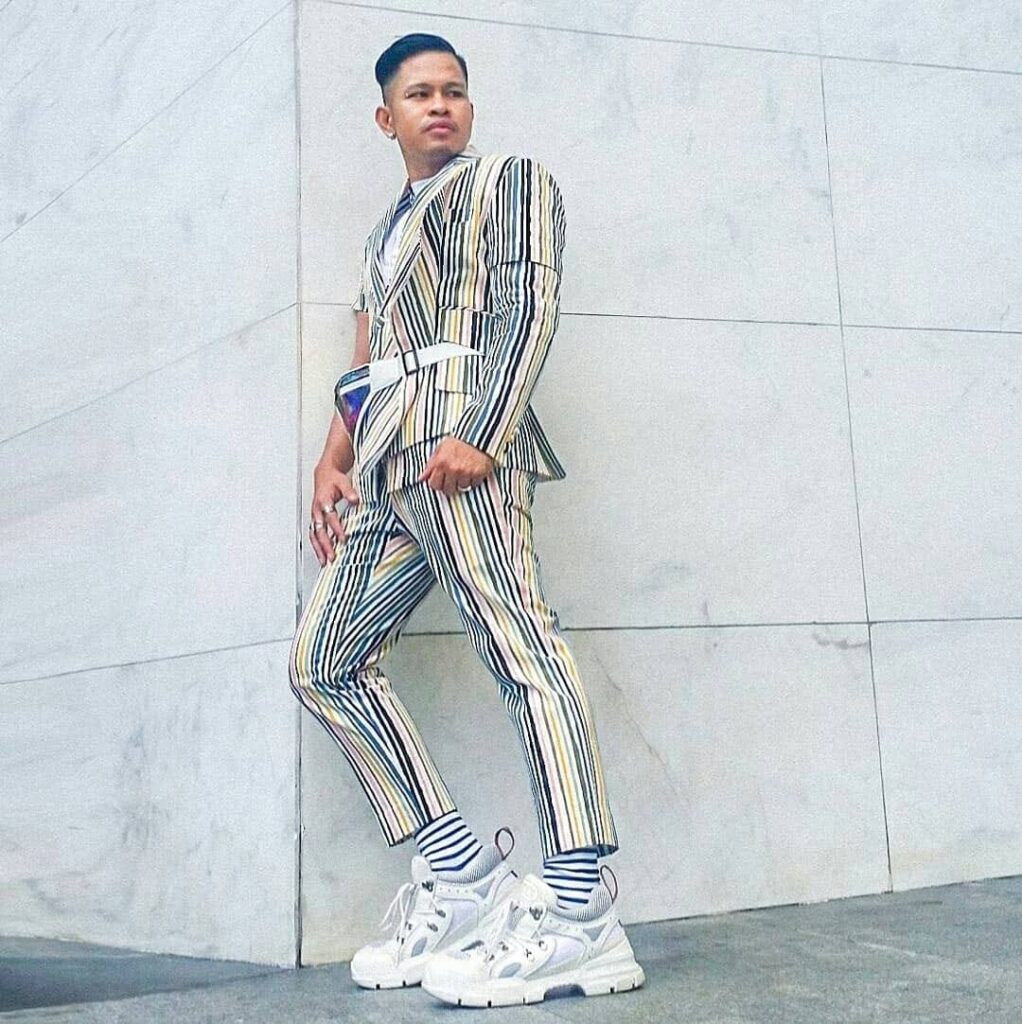 Jaggy Glarino
A fashion design graduate of Slim's Fashion & Arts School, Jaggy Glarino is a registered nurse who finished a short course in Central Saint Martins in London. After winning the silver medal for his sculpted gowns at TernoCon 2020, he has since launched Jaggy Apparel for edgy streetwear and Maison Glarino for contemporary wearable art. His works feature complicated patternmaking, tailoring, handmade detailing, bold textures and colors.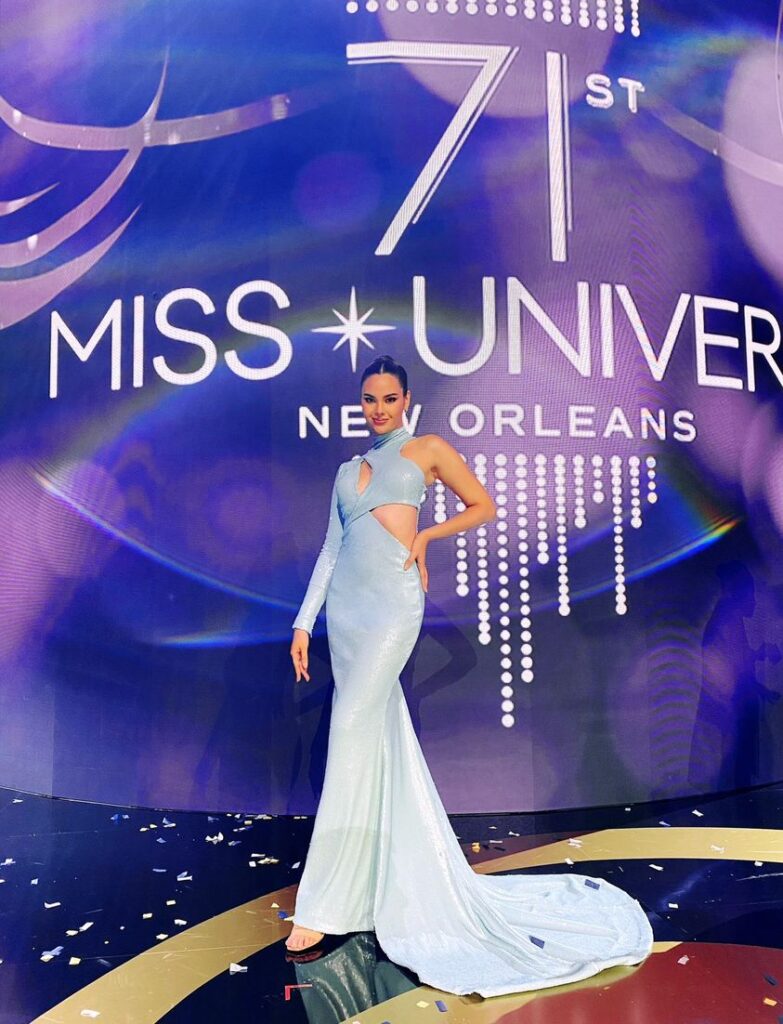 Glarino's aqua blue fully sequined cut-out gown was worn by Catriona Gray at the second half of Miss Universe. The sultry yet refined ensemble showcased the beauty queen's toned midriff.
The challenging process of bringing their vision and fabrication of ideas to life was all worth it for these ingenious designers. Following the pageant success, they are stamping their unique marks and paving the way for a more inclusive future in fashion, one that celebrates and champions Philippine crafts, methods and designs.
---
Email the author at [email protected]