WITH influences from around the globe, Philippine culture is a treasure trove of tastes both familiar and new. Gastronomy is wildly diverse and hyper-regional, with bright acidity often balancing lush sweetness and umami.
It's no surprise that those same flavors translate remarkably well to cocktails.
Calamansi adds a subtle burst of bright citrus. Ube brings mouth-coating milkiness with a nuanced sweetness. Lemongrass balances out the grassiness in shochu and tamarind gives a hint of earthy sweetness. Fragrant pandan leaves have become a bartender favorite, complementing everything from aquavit to absinthe.
As the bar culture has become divergent, bartenders have become creative – shifting away from conventional type menus to those that involve storytelling, progressive cocktails and multi-sensory drinks.
Decades ago, some of the best cocktail talents arrived on our shores. They brought their knowledge and expertise in mixology and inspired a new generation of homegrown talent. That generation has such a strong sense of individualism that they have created a cocktail culture we can finally call our own.
The vibrancy of our country's drinking culture will be showcased in the Philippine Cocktail Festival on March 23-24, 6-10:30 p.m., at Shangri-La The Fort, Manila in Taguig. Presented by Tatler Dining, HSBC Philippines, Johnnie Walker, Don Julio, Tanqueray 10, The Singleton, Moet Hennessy and Don Papa Rum, the event will proffer concoctions you probably have never tried before and a spread of bar chow to enjoy with every tipple.
Twelve mixologists who love drawing inspiration for cocktails from Filipino culinary traditions will be featured in the two-day event. They are JV Naive of Oto; Dan Santos, The Curator Coffee and Cocktails; Claude Delima, The Spirits Library; Abby Quilal-lan, Salt and Ice; Kent Llorico, The Back Room, Shangri-La The Fort, Manila; Faye Fernando, Baccarat Room & Bar, Solaire Resort & Casino Manila; Royce Pua, Recraft, Some Young; Kevin Corales, Southbank Cafe + Lounge; Tog Exconde, Blind Pig; Jason Nuqui, Bank Bar; Aaron Goodall, Don Papa Rum; and Clayton Munar, Alibi Lounge and Bar, Crimson Filinvest.
Claude Delima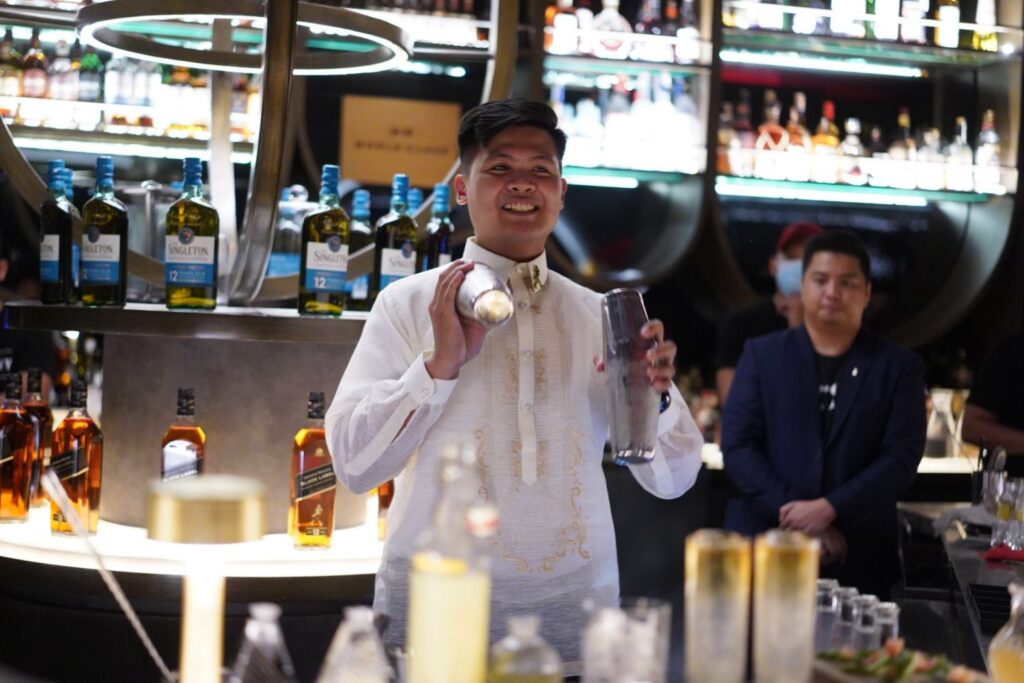 The winner of World Class Philippines Bartender of the Year 2022, Delima started working as a part-time bartender in 2017. His only job was to prepare everything the head bartender needed, including squeezing lots of lemons and limes. He eventually got his own small gigs and worked in different hotels and restaurants. He is currently a bartender at The Spirits Library in Makati.
In the competition, Delima introduced his winning cocktails "Pagsidlak" and "Takipsilim", inspired by sunrise and sunset. "Even if you start early or even if you start late, what matters most is how you used time and how that time molded you," he said in an interview with Discover MNL. For "Pagsidlak", he used Johnnie Walker Black Label and Pomelo Tepache Cordial topped with his own blended soda. For "Takipsilim", he mixed The Singleton of Dufftown 12YO with lemon, syrup, Fat Washed Green Chartreuse Mozzarella, PX sherry reduction and Aquafaba.
In the World Class Global Finals 2022 held in Sydney, Delima created "Paksa", which combines Ketel One Family-Made Vodka with Bloody Mary Mix Cordial and a splash of Green Chartreuse. The cordial was made from juices extracted from fresh tomatoes, jicama and calamansi. To further enhance the flavor, he added black pepper and coco amino acid.
Abby Quilal-lan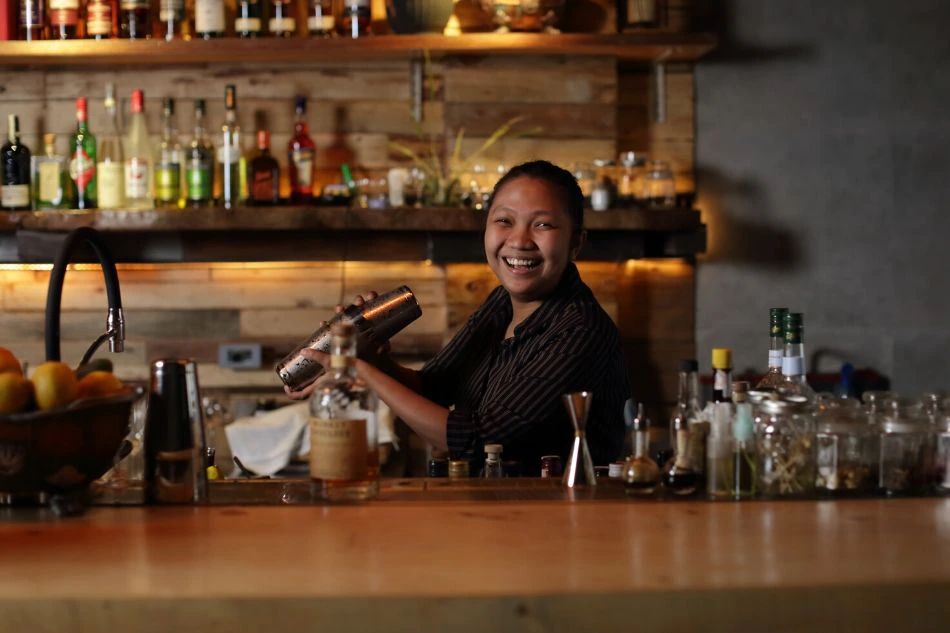 The co-champion in the Don Papa Cocktail Competition 2017 and champion in the La Maison Cointreau Philippines Cocktail Competition 2019, Quilal-lan started as a server at the award-winning ABV in Makati. After attending bartender training sessions, she began to research and practice on her own. ABV then offered her a bar back position first before promoting her to a full-time bartender spot.
Quilal-lan considers patience as the most important bartending skill. "Like pretty much any job, bartenders are working physically, but more so mentally. Knowing how to make 50 more cocktails and figuring out which one to make, and accurately making it, when requested. You need to be ready, patient, mindful and attentive," she said in an interview with ABS-CBN News. Quilal-lan now whips up crafty drinks at Salt and Ice in Bonifacio Global City.
Faye Fernando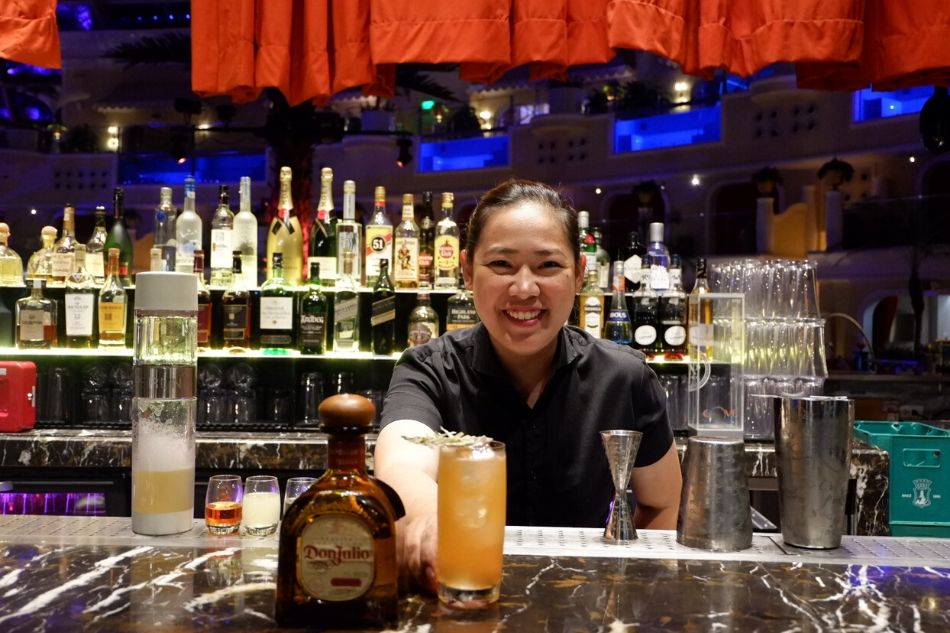 A veteran of many bartending competitions, Fernando represented the Philippines at the Speedrack Asia Finals in 2017 and 2019. It was when she landed a bartending gig at The Curator that she learned everything about the craft from the owners, Jericson Co and David Ong. "The result is what I am right now," she said in an interview with ABS-CBN News.
On what she considers the most essential in being a good bartender: "For me, having a good palate of flavors for tasting. Everything is good, but you should know how to balance the flavors based on what kind of drink your guest is requesting you to make. So be a good listener and have a sense of humor." Fernando is now the head mixologist at Solaire.
Indeed, there's more to the Philippines' drinking culture than a 133-year-old beer. Our country's flavors – tastes, ingredients, even tributes to landmarks – are increasingly being used in craft cocktail concoctions.
The burgeoning Philippine cocktail scene reflects the Filipinos' being adventurous with what they drink and endless appetite for new kinds of watering hole. In the 2000s, cocktail bars were few and far between, with beer, gin and rum being the poisons of choice for most drinkers.
Fast-forward to 2023 and Metro Manila is peppered with world-class establishments, many of which are championing local and regional flavors in their beverages boasting eye-catching presentations. Bartenders are pushing boundaries, drinkers are making more educated choices and suppliers are flooding the markets with spirits that celebrate diversity and craftsmanship.
At the Philippine Cocktail Festival, the 12 mixologists will present their genuine knowledge of the craft, willingness to experiment and most importantly, a deep sense that the emerging local scene has serious staying power.