SINCE 2018, the Big Bad Wolf book sale – a.k.a. the world's biggest tome fair – has been treating Filipino bookworms to a literary feast, with a diverse selection of titles at the most accessible prices available on the market. The event paused on-site operations for three years due to the pandemic. This year, the sale makes its big IRL comeback.
Ongoing until today, 10 am-1 am, at the PICC Forum Tent in Pasay City, Big Bad Wolf features over two million books at up to 95 percent discount with new releases daily at the sprawling 4,800 sqm tent. The publications are divided into three categories: fiction, non-fiction and children's books. Aside from international titles, buyers can also expect offerings from local authors and publishers.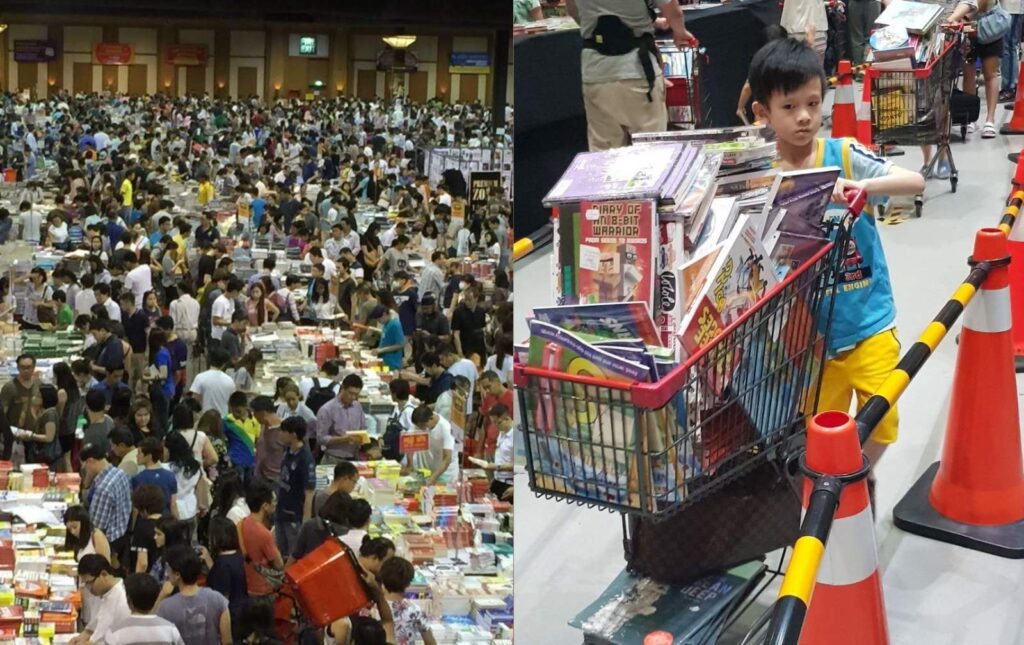 The run-of-the-mill price tags are not the norm here. Instead, a "universal" price system is set throughout the sale, where books are labeled with a letter that corresponds to their price. Books marked with "A" are priced at P20 while "B" is designated for P40, "C" for P60 and so forth.
For the first time, Big Bad Wolf teams up with a Philippine bank for more deals than what they already have in store. Metrobank credit and debit cardholders can access exclusive special offers and discounts, including:
0 percent installment – For a minimum purchase of P3,000, credit cardholders can avail of 0 percent installment for three months.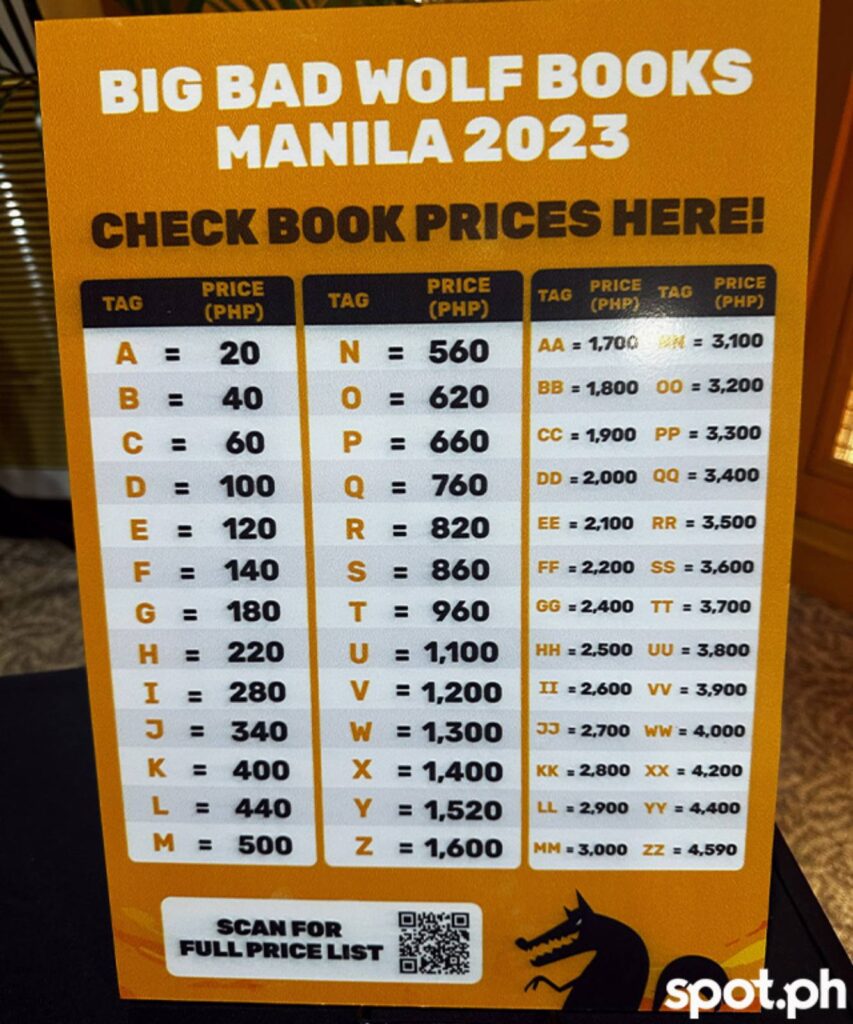 Exclusive payment lanes – Metrobank cardholders can enjoy dedicated lanes during the sale.
Up to 10 percent cashback – Purchases of P5,000 with Metrobank credit cards can score up to 10 percent cashback.
VIP lounge – Qualified World, Platinum Mastercard and Travel Platinum Visa cardholders can have exclusive access to a special lounge.
The entrance is free at Big Bad Wolf. Visitors can scan a provided QR code before entering the sale to register for a free membership. After that, they can access exclusive offers and deals when checking out through their app. Proceeds of the book sale support Gawad Kalinga.
Celebrating joy of reading
Founded in Malaysia in 2009, Big Bad Wolf is the brainchild of couple Andrew Yap and Jacqueline Ng. Since then, the fair has found its way to 15 countries, including the United Arab Emirates, Cambodia, Hong Kong, Indonesia, Myanmar, Pakistan, Sri Lanka, South Korea, Singapore, Thailand, Taiwan and the Philippines.
"We are thrilled to bring back the Big Bad Wolf book sale to Manila. It's an opportunity to celebrate the joy of reading and connect with fellow book enthusiasts," Ng said.
Yap said the Philippine market is different from other Asian countries since Filipinos truly love reading. "This is not really our biggest in Manila on our third time here but the titles we have brought here has more than doubled," he said.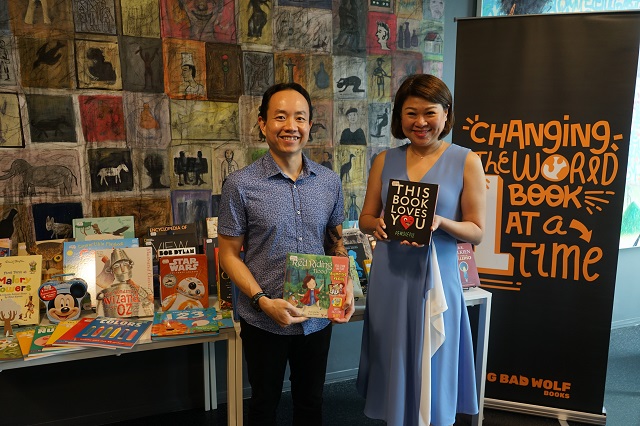 "As a business, we never saw profit as the main goal," said Yap, managing director and one of the founders of BookXcess, a bookshop in Malaysia selling affordable books, in an interview with the Philippine Daily Inquirer. "It's always to make a difference and we wanted to do a business that is meaningful."
Yap, together with BookXcess co-founder and executive director Ng, established the company in 2006 "to help Malaysians kick-start their reading habit."
The Big Bad Wolf book sale followed three years later in Dataran Hamodal, Petaling Jaya, with the aim of bringing an expansive line of books, at cheap prices, closer to Malaysians. Since then, the traveling Big Bad Wolf has been sniffing its way to Indonesia, Sri Lanka and Thailand.
The big bad wolf is, of course, a character in fairy tales, and Yap thought that using a familiar name will appeal to children and encourage them to join their parents at the book fair. "Coming with a name and a character whereby children can relate to is very important because we have to start them young," Yap said. "Adults? They know the value of books and they will come, but in order to get their kids to come, creating a fun event is very important."
Ng said Big Bad Wolf "allows us to be very playful."

New industry
The books are "remaindered", which is why they are priced much lower than in regular bookstores. "Remaindered books are books launched about six months or one year ago," explained Yap. "Normally, a publisher would print a hundred thousand books and sell about 70 to 80 percent. So these are the 20 percent that publishers offered to us (at discounted rates) giving these books another chance."
Remaindered books are new books albeit some copies may have minor shelf wear, which is indicated by a mark at the bottom edge of the book. "It's a totally different industry," Ng said of this process of buying books in bulk from publishing houses.
But more than the business, the goal is to encourage non-readers to read, Ng said. "Price is where you start to try a book," she said. "The moment you [begin to] love the author or love the style of writing or love the content, you will start buying a book at full price. We are complementing the book industry and we are creating a market to convert a non-reader to a reader."
BookXcess sources its books from publishers in Australia, Canada, United Kingdom and the United States.
It started at a mag shop
Ng admitted that she was never really into books as a child, but her love affair with reading began with a small secondhand magazine shop called Reissued that she and her husband Yap used to own in Malaysia. It was in the mid-2000s and she had just moved from Singapore to be with him. "It was a tiny shop, just around 500 square feet," she told Spot.ph. "There were hardly any customers that walked in," she added. The shop was a means for her to do something with her time in a new country, and as the only one minding the place from dawn to dusk, Ng had a lot of it.
This is where the secondhand bookshop near their own came into play. "I started renting books – it was still too expensive to buy – from the shop across me," said Ng, who devoured all kinds of fiction works while working in Reissued. Books were a bit of a luxury in Malaysia at that time, especially imported ones; a fact that Ng would later use as a drive to start the Big Bad Wolf.
Remaindered works
Though Reissued only lasted for about two years, it was still a blessing for the couple. One of their suppliers told them about remaindered books. "These were the overprints and the returns – but who would want to buy them?" was Ng's first thought. People usually wanted the newest editions and the most popular works but as she realized, "I read fiction I can't afford to buy." This was the case for many Malaysians who loved to read, she felt, and it was the same for those who never picked up books and were scared off by the price tags. "But if we could bring the prices down, you might try to buy. It's a very simple concept," said Ng.
So in 2006, the couple packed up shop and moved to another 500 square feet space right next to the magazine shop and named it BookXcess. This time, Ng had help in the form of one other staff member. It was here, while doing everything from cleaning to organizing and most importantly, talking to customers and finding out what they liked and didn't like, that Ng began the first steps towards what would become the Big Bad Wolf. "I will always treasure that time as it gave me a very strong foundation; it gave us the whole philosophy and drive of the business."
Since then, the couple has built and curated their database based on their interactions with customers. Ng points out that neither she nor Yap come from corporate backgrounds. "We are not retail people; we didn't know how to do the business. So we learned through our customers who eventually became our friends. They never hesitated to give us their comments or suggestions."
"We gave ourselves six months to test the remaindered books," said Ng. At the end of the period, the response they got from excited book buyers had them packing up shop again – but this time to move into a 3,000 square feet shop. It was here that the ball really started rolling for them. "We tried to have a better range of books, we knew customers by name, we knew what they wanted," said Ng, adding that "I had three staff (members)!"
Big Bad Wolf enters the scene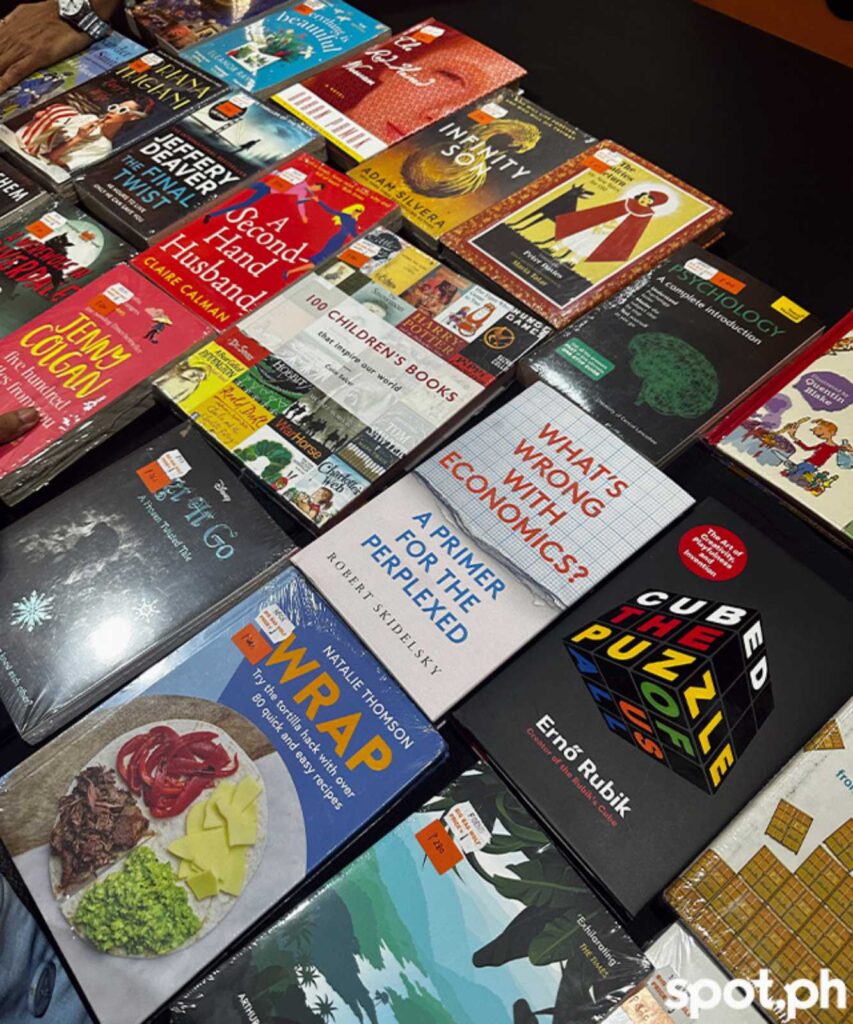 "The goal was always to increase readership," said Ng. The shop helped keep book lovers alive, but "it was really hard for me to convert a non-reader." They needed a way to reach out and make people browse, and ideally read, their books. "That's why in 2009, we started Big Bad Wolf."
At that time, the couple had around RM 5,000 (around P60,000) to advertise their book sale – enough for maybe a single newspaper ad. They knew they had to make it good, so when Yap suggested the name "Big Bad Wolf," Ng wasn't very into the negative connotation of the fairy tale villain. Fortunately, Yap made the right call and the cheeky character reference created enough drive and word of mouth for the first ever Big Bad Wolf book sale. So much so that they decided to make the second run in 2010 operate 24/7.
"We started the 24 hours with the intention of attracting the youth," explained Ng. "Maybe after they party, they will come to the book sale." So they did arrive at random hours of the night; teenagers in high heels and crazy makeup, buying books and reading. But more than just the kids, people from all around Malaysia drove for hours to get to the book sale. "We never expected for people to travel and drive so far; it was amazing. To us, these are things that (encourage) us to continue what we do," said Ng, "and yes, get bigger, bigger and bigger."
Mission
The Big Bad Wolf book sale has continued on in Malaysia and other countries. It isn't easy, but for Ng, "The Big Bad Wolf stands for a mission," she stated during the 2020 Manila opening. "This is about converting non-readers into readers and to bring books to the hands of those who can't afford it."
Books, and all kinds of stories, have the power to expand horizons – make people see and understand things they didn't before. This is what Ng and Yap bring with the Big Bad Wolf, "to be able to inspire, to be able to empower." This book sale does not end with the walls of whichever convention center it is in. It lives on with every book bought and every person who reads. The story of the Big Bad Wolf is far from over and for once, we don't think it's one that will ever end.
---